As often happens when I'm looking for photos for Carmi's Thematic Photographic, I start out looking for something specific and stumble across what is even better than I had planned.
Such is the case with my "watery" photos. I didn't even know I had these, they were hidden amongst a bunch of pictures I recently scanned of a University of Utah Math Department picnic.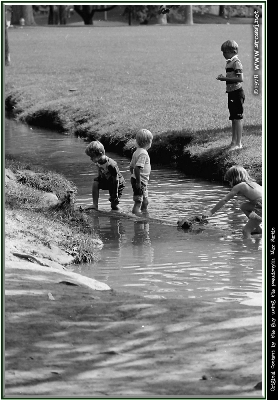 Don't ask me who they are, I have no idea. Were they with the Math Department? Or were they just hanging out at the park and I just happened to capture them? I can tell you this: the youngest ones are easily in their late 30's now.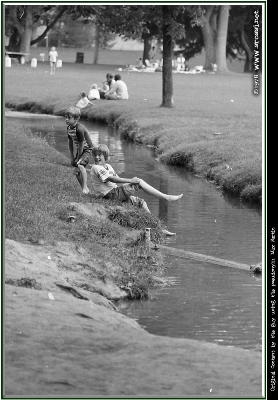 These were taken in 1978 with my first Nikon. I shot almost entirely in black & white, since the darkroom my father built in the basement was not equipped for color.
Will there ever be a time when kids are no longer enticed to shed their shoes, roll up their pants and play in the water? I hope not, even in my fifties I can't resist it.
One thing I can resist, though, is putting my lips on the water fountain. Ick.
This post brought to you by Carmi and his:
Click on the banner to check out more watery photos.