They probably don't recognize me anymore. This last week, because of the play, I've spent very little time awake at home.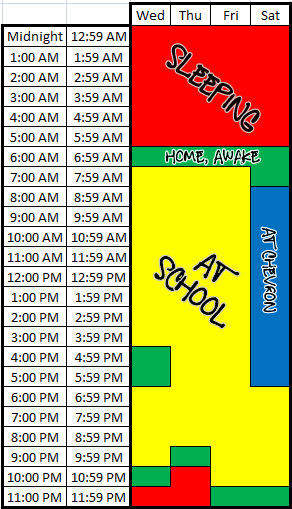 11% of the last 4 days, according to my calculations. A full 50% has been at school. I'm glad it's over, but I do love being a part of a big production like we had.
Yesterday was the final show. Our auditorium holds about 850 people and the show was sold out at least a half hour before show time. (850+ tickets @ $5 each, not a bad haul for a junior high production. And that was only one of the 4 days.)
The show started about 15 minutes late, giving ticket holders that were late time to show up before we sold their seats to make room for the 100 or so people waiting and hoping for a seat. Luckily we didn't need to turn anyone away. I had bought two tickets for friends, one of which cancelled and the other had taught at my first school with me, so I sold the two tickets (for face value, I wasn't going to go scalping tickets at my own school) and invited my friend to watch the show from the sound booth with me.
The show went great. As exhausted as the kids were from their schedule over the last week, they still showed a lot of energy.
I slept 10 hours last night, although my sleep was filled with songs from Grease.