A couple of my students came up from their foods class to bring me a treat they had made.
Graham crackers, yogurt, strawberries and string cheese, assembled to look like little mice on a plate.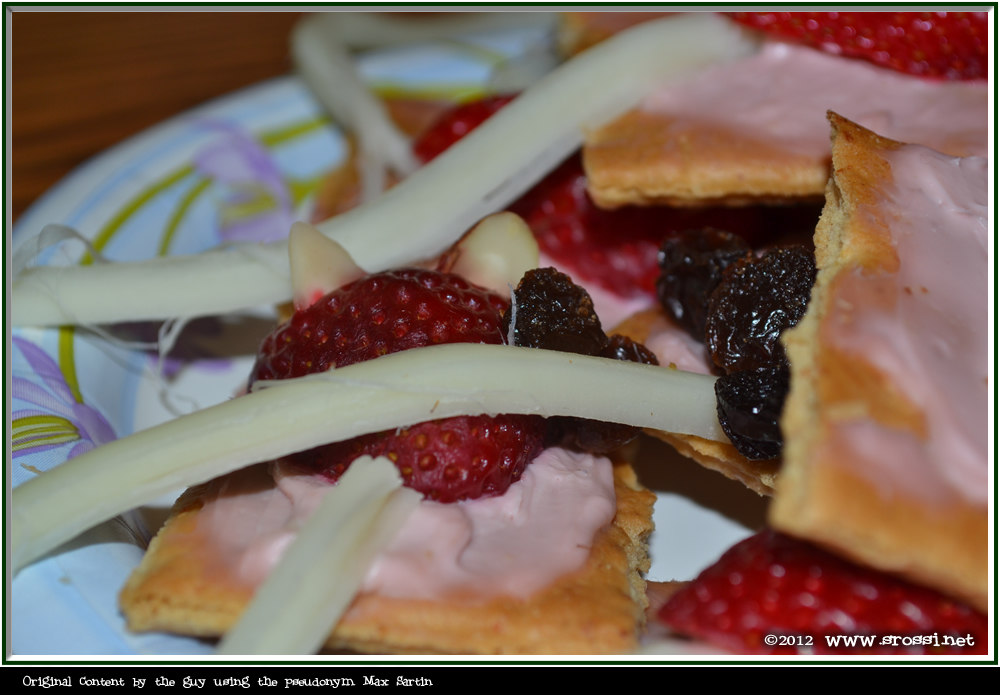 Mmmm, they were good, but for some reason I just couldn't eat the raisins.
---
My 6th period is a keyboarding class, in room 208. It's also where I got delivered the strawberry mice.
My 7th period is an Algebra class, in room 203, and the other keyboarding teacher takes over in room 208.
At the beginning of 7th period, after I got the kids started on their warm-up, I headed back to the keyboarding class to pick up my mice, which I had left there because I had too much to carry.
As I open the door the class goes deadly silent, not even typing going on. Ms. N turns towards me with a really guilty look on her face.
I knew something was up, had no idea what it was and had a class I had to get back to so I just said my hellos, grabbed the plate of mice and headed back.
After school I opened up my email and found about 15 emails, all from myself.
14 goofy emails, all "from" female staff members professing their love for me and telling me how hot I was. The last one simply informed me that it was a bad idea to leave myself logged in on the lab's teacher computer.
Yeah, the other keyboarding teacher decided to have fun with my stupidity and asked the kids to tell her what she should write to me from my own email.
---
Another student came in after school today, since it's the end of the term he wanted to look at his grades, and he wanted to know what percent you needed for a 'B'.
He asked me "What makes a 'B'?"
I told him "One straight line with two half circles, or a straight line and one circle if you want a small b."
Him: "Seriously, what makes a 'B'?"
Me: "A mommy bee and a daddy bee."
That's when he explained that he wanted to know the percent he needed for a B grade.
Whew! I was afraid I was headed for trouble with the Sex-Ed Police.
---
Yeah, it was a good day.