You check your bank statement and discover that $69,300 was accidentally deposited in your account. What do you do?
Contact the bank and let them know there was an error?

Let it sit in your account and see how long it takes them to figure out there was a mistake?

Immediately go out and buy a new car, pay for a vacation and try to spend it all before anyone notices the error?
Well, if you choose the third option, you could end up facing criminal charges, just like this guy from Trevose, PA. By the time Wells Fargo caught the mistake, he had spent all but about $2,000. He's being charged with theft and receiving stolen property. Lesson: Don't get your financial or legal advice from the game of Monopoly.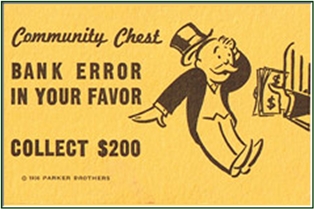 My older brother had this happen to one of his retirement accounts. He got the statement one Friday afternoon, he still has the statement that shows a balance of $514,000,000. Yup, 514 million dollars. The banks were closed by the time he looked at the statement, so he got to wait the weekend before contacting them. So he still can claim that he was a half-billionaire for a weekend.
Personally, in either case I wouldn't have spent any of the money, but I might have been tempted let it sit in the account and see how long it took the bank to find their big boo-boo.