Well, it's official. I've moved into my new classroom out at the Jr. High that rhymes with schmeisenhower. I had to borrow The Gearhead's truck to get my desk out there (you'll see the thing I would have been stuck with if I hadn't brought my old desk with me), and although it wasn't blocked, they had parked their Jeep pretty close to the side of the truck, I had to squeeze it out. I backed it back in when I returned it, and in being careful not to hit the Jeep, I got it a lot closer to the fence, and more into the bushes, than it was before. I thought about calling them, but decided I wanted to see if they would notice that the Jeep wasn't as close to the truck as it was when they left. (Didja notice?, and thanks for the use of the truck). Here's some pictures, I didn't get a picture of my desk there, but I'll post one later.
This is the teacher's desk they had in the room.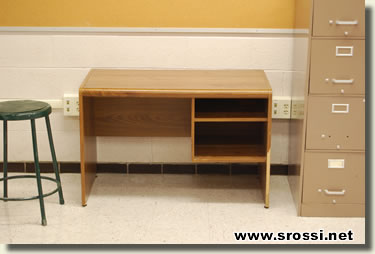 There was also this one, which has no drawers. It's also kind of old, since it was surplus from Mountain Bell. That was the name of the phone company in Utah before the big AT&T breakup. Which means the school got is some 20 years ago, and at the time it was old enough for the phone company to want to get rid of it.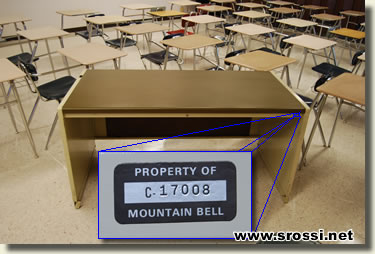 This is looking from where my desk is towards the front of the room. My room and the room next door are actually one huge room that is split in two by that big accordian wall.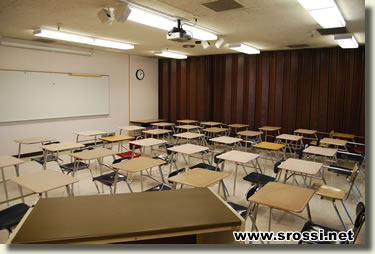 A window. My room has a window! Which is why I'm willing to put up with the accordian wall. The school was built when "open classrooms" were all the rage. That meant that the building was one huge room and that the classrooms were seperated by nothing more than bookcases and blackboards. Surprisingly, that didn't work too well, so they ended up building walls to break up the area into real classrooms. That left very few classrooms with windows.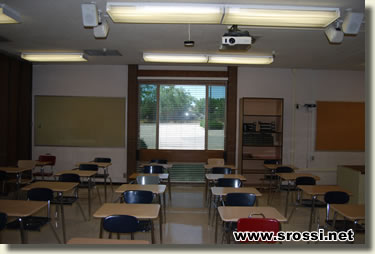 This is looking from the front of the room by the accordian wall out towards the door, which is another perk because it's right by an outside door. Which means I can sneak out early without the principal knowing.