....
I've been watching my "
That '70's Show
" DVDs, and in a couple of seasons a lot takes place in their version of a PhotoMat. Now, first of all, I love that show. It's my high school experience to the "T". We had a F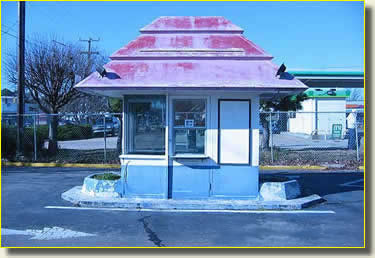 ez, granted they were always female (Barbie and Tanya), but the foreign exchange students always hung out with our group. We had our Donna & Eric (Scott & Jenny), our Hyde (my best friend, Ed - he even lived at my house for a while), our Jackie (male versions, Eric & JT), our Lori (the slutty sister, not my sister though), and even our own Kelso (though I can't think of his name now). And although on the show they graduated in 1979, that's pretty close to my 1978.
....
Anyway, I've been thinking about how PhotoMats were huge for a while there and then, thanks to 1 hr and digital photos, they disappeared off the face of the earth.
....
Now, here's my point: if you have to ask "
What IS a PhotoMat
", then you are automatically crossed off my dating list for being too young. Yup, sorry. But if you have to read the next paragraph to see what a PhotoMat is, we just can't go out.
....
Just like the SnoCone booths that have cropped up everywhere, PhotoMats were little buildings like the one in the picture where you could drop off your film (remember film? no? sorry, no dinner and a movie for you), and then pick up your pictures a couple of days later. Just like everyone else, they sent the film in to some huge lab somewhere in California, Ohio or Iowa (it was definitely in the USA) to be developed and then held onto them until you came to pick them up.
....
Don't ask me why I felt the need to blog about PhotoMats. It's just something from my younger days that have been wiped off the face of the earth by the digital age. Like stickball, bore-a-hole, big ol' station wagons with fake side paneling and, uhum, spin-the-bottle.