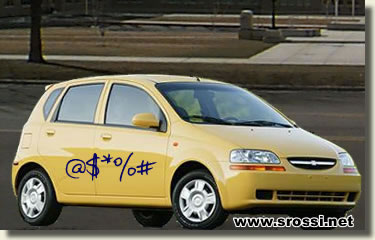 ....
I read this in the Salt Lake Tribune yesterday. A 21 year old guy comes out of his house to find someone has spray painted obsenities on his brand new Aveo. Now, instead of thinking "
Hey, you really can't hurt the looks of something that ugly
", he gets mad. His second mistake was not going straight to either the police or the parents of the three 12 year-olds he believes did it. Nope. Instead he gets his 16 year-old cousin, finds the three kids, puts them in a headlock and throws them in the back of the car. Then they take them to an auto bodyshop on Redwood Road and they call one of the kid's mothers. Demanding $1,000 for repairs in return for her kid.
....
After about an hour, the kids were returned safely and the duo was arrested. Not suprisingly, they've been charged with kidnapping. Duh.