Earlier this month I wrote about Utah's HB477, the bill that made all our Legislator's electronic communications private and exempted them from our own state GRAMA (Government Records Access Management Act) laws, even though they are sent and received on state owned (read: citizen owned) cell phones, computers and internet access. It went from a blank paper, with nothing more than HB477 on it, to the Governor's desk in less than 3 days, with no debate and no public input. The Governor, a rubber stamp arm of the Utah GOP, signed it.
The public outcry was amazing. The news media outcry was intense. And, in my opinion, because the news media show no signs of letting the issue die before the next election, several legislator's have done an about-face and admitted it was a mistake to vote for it. One said he was actually blackmailed by the Republican leadership – threats to defeat any and all bills he introduced or co-sponsored, they wouldn't even be allowed out of committee. Another one fell short of claiming blackmail, but claimed he voted for it because he knew it would be harder for him to get bills introduced. A couple other have come out and are calling for a recall vote.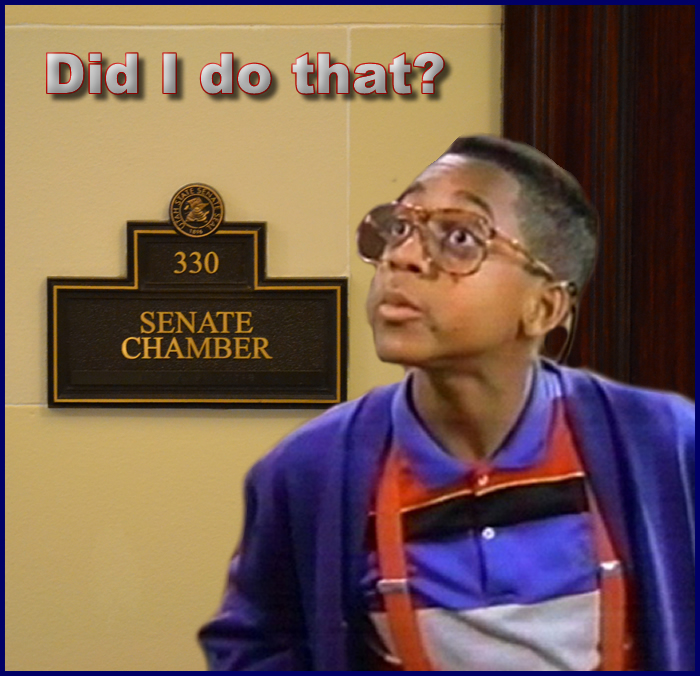 It all reminds me of a fictional character from the 90's sitcom "Family Matters", Steve Urkle. For those of you who never saw it, Steve was super-intelligent and a total klutz. He was always destroying things, and his tag line comeback was always a oblivious sounding "Did I do that?" Exactly what the illustrious lawmakers for the State of Utah are doing. Ramrod an unethical and self-serving piece of legislation through, and when those pesky masses get all uppity and threaten their unbridled power, they look stunned and ask "Did we do that?"
Where were your cojones back before you knew your constituents would want them for your self-serving vote?