To what era would you attribute these comments:
"
We're dropping
[our]
moral and ethical standards in favor of a more national
[set]
, and I don't like it,
"… they contain "
code words for socialism.
"?
A)

1950's U.S. Senate Committee Hearings


B)

2011 Utah Senator


C)

Both of the above, because there's really no difference between the two.
If you chose
C)
then you are right, because they really sound like something Joe McCarthy would have said back in the 50's and yet they were said just this week by Chris Buttars, a Utah State Legislator.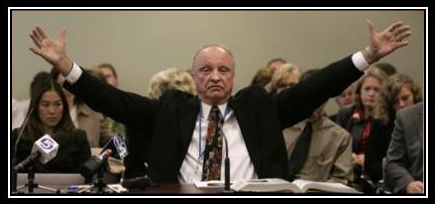 Reported in the
Salt Lake Tribune article
, Buttars was referring to a new set of academic standards that 39 other states also plan to adopt. Developed by the
National Governors Association Center for Best Practices
and the
Council of Chief State School Officers,
not mandated by the
Federal Government
, the idea is that states need to become better aligned in their math and English curriculum because of an ever increasingly mobile population.
Personally, I agree with the goal. I'm definitely not for the ultra micromanaging I've heard of in other cases, where every teacher should be teaching the exact same thing, with the exact same vehicles, on any given day. Individualism aside, that doesn't even allow for adapting to classes that learn faster/slower than others and would mean moving ahead even if the majority of students still don't get it. But, at least in math, to know that any student coming into my class has already gone over monomials, inequalities and other things that I have covered, would be quite helpful. There may still be things that I have covered that their old teacher didn't, or vica-versa, but at least common standards would help minimize these.
And, regardless of whether or not you agree with them, playing the communism/socialism card is just sooooo 1950's.