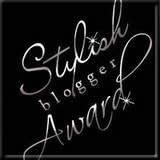 Yup, my blog got an award. It's an award that is given from one blogger to another (so there's no panel I had to buy off) just as a way of showing how much you appreciate the other's blog. Alexia, of dreaming of open seas gave me this one, and frankly I was honored. We discovered each other's blogs through the Thematic Photographic series, and have been followers ever since.
Part of this deal is I get to share 7 things about myself. So, here they are, although some of you may know some of these already.
I've owned 26 Fords in my life, which is just shy of half of all the vehicles I've owned.

I've taught in 5 different schools stretching across the entire valley and all socio-economic levels.

I've taught 4 completely different subjects. (Math, Stage Design, Computers and Psychology).

I owned a pizza place that went belly-up in 6 months.

I don't own a full sized fridge, although I have a full sized kitchen.

I originally entered college to become an architect.

I spent a year in Europe when I was 10, getting there and returning by ocean liner.
I also get to pass this award on to other blogs that I really like, but I'm beginning to fall asleep so I'll do that another time. Sorry to keep you waiting.