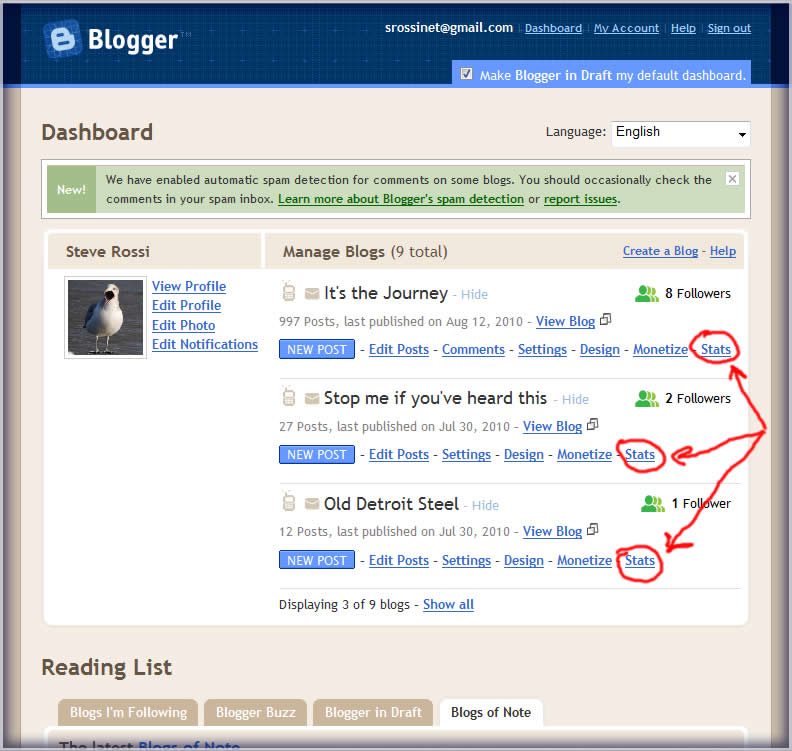 Just over a month ago, blogger added a new feature. If you go to your Dashboard you'll see at the end of the links for each of your blogs a new link: Stats.
A lot of cool, useless information on who is checking out your blog. Once you click on Stats you'll see 4 different choices:
OVERVIEW: Just what it says, an overview of the other 3 choices.

POSTS: Lists the most viewed posts for the time chosen time period (you can choose Now, Day, Week, Month and All time)

TRAFFIC SOURCES: Really boring stuff – the most common referring URL and sites.

AUDIENCE: My personal favorite. – gives you an idea of where people who get on your blog are from.

My biggest audience is, understandably and by far, from the United States (2,423 page views since they started keeping track a month and a half ago.) I'm not nearly as popular in Canada (60), Netherlands (38), Luxembourg (30) and Germany (22) rounding off the top 5 for all time. This week I've been pretty popular in the Czech Republic (15) but despite being the second highest it's still way behind the U.S. with 353.
Now, my all time most favorite post is Of Kaffeeklatsches and JNCO jeans... with 223 views (these do not count when you read the post from the main page, only when someone clicks on the link for that specific post). The most popular for this week was WAL-MARTIANS! Run for your life…. with 26 views and today's favorite was Duped, the Saga continues… (15) with 5 people still checking out the all time favorite Of Kaffeeklatsches and JNCO jeans... today alone.
Interesting? I dunno, but for me it is. Important? Nah. But chances are good that I'll keep you informed on any changes in the all time favorite post and foreign country and weekly favorites updates. Just because I'm a statistics nut.