I gots doors. In fact, I spent the whole day changing doors. I've had the same back door since I moved in 16 years ago. Before I built the back door, it got a lot of direct sunlight, and it got pretty beat. Even a new coat of paint didn't do too much for it. So, last summer I bought a new one for it. And just got around to putting it up. Here's the before and after pictures:
In case you can't tell (and if you can't, why the hell did I spend all day on it), the green door on the left is the "before" picture, the wood door on the right is the "after".
And in response to Writer's latest post, here are a few pictures that I rounded up from my plethora of photos:
I put this on the back wall of my classroom one of the first few years I was teaching. It's supposed to be the teacher in the room on the other side of the wall, and I had more than a couple students comment that it made them nervous, they felt like Mrs. H was watching them all period.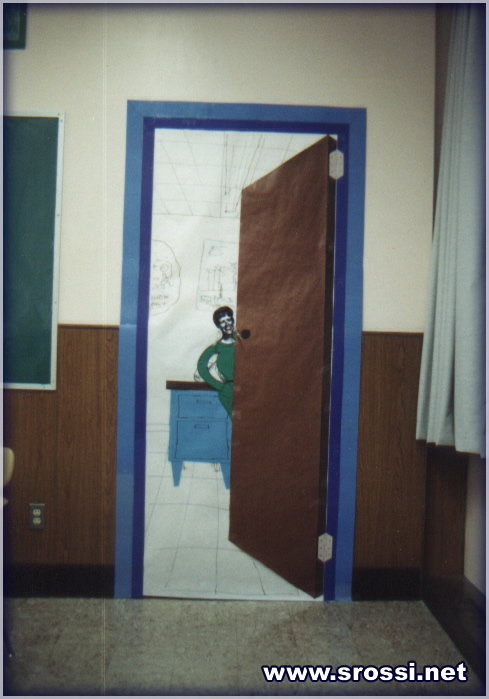 This one was at the same school, a couple of years later. My room was upstairs, and at the end of the hall are three doors that lead into the balcony of the auditorium. During my time running Stage Crew, I realized that one of the doors was a fake, I figure just so things looked centered, and that there is just wall behind it. My good friend, Ms. B, and I decided it would be funny to set this up for Halloween and somehow get the principal up there to "find" it. The principal and vice principal were coaxed there by one of the secretaries, and when they saw it, their only reaction was "Rossi & B… again!"
So those are my door pictures. Click on any one of them to see them better.