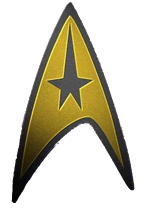 I finally got around to seeing the new Star Trek movie. Yeah, I had planned on seeing it as soon as it came out, but since that coincided with the closing of my school, I got sorta sidetracked. Which proves that although I am a Trekkie, I'm not a fanatic.
So the foods teacher finally coaxed me into going, she even got the tickets free from one of our ex-students who works at the theater. It was great. Everything the Gearheads said it would be (
The Gearheads
). So, I won't waste your time saying the same things in my own review, suffice it to say that I'll be buying it as soon as it comes out on DVD.