Utah's own Spiral Jetty. Robert Smithson built it back in 1970, when The Great Salt Lake was at a low level, so it has spent about half it's time submerged under water, depending on the lake level.
The Great Salt Lake has no outlet, it only loses water to evaporation, which is why it is so salty. That also means that it's level is highly dependent on the weather. In the early 80's they had to rebuild I-80 several times because the lake kept rising and covering it.
Here was a smaller rendition of it, or maybe some other form, that was made of rocks on the shore above the Jetty.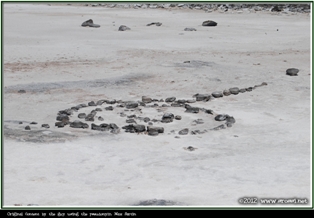 The Jetty is up on the north shore of the Great Salt Lake, just a few miles down a dirt road from Promontory Point, where the eastern railroad was first connected to the western railroads. Writer and I went to see the reenactment there first, before venturing out to the Jetty. There's a lot of curves on a locomotive.