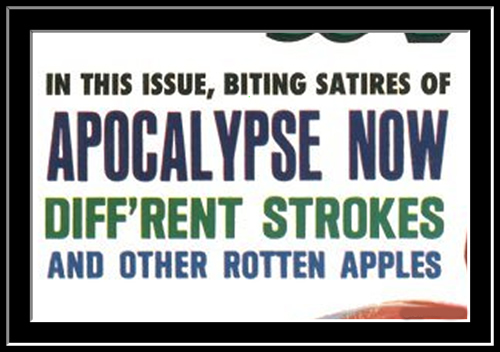 I stole that title from Mad Magazine's satire of the 1979 movie Apocalypse Now, and on this Rapture's Eve, I find it quite fitting.
But as I watched the news people making so much fun of this latest end of the world crap, I started to get a little bit angry. Not at the news people, but at the schmuck that thinks it's OK to spread this kind of fear.
Now unless you have some serious long-term memory problems, or major gullibility issues, if you are an adult you are bound to remember the umpteen other times in your life the world ended. Or was supposed to. And, like the news, you just laugh off this latest absurdity, wishing you could be standing right next to Harold Camping, or any one of his doom and gloom followers (that forgot he "got the date wrong" when he predicted the end of the world back in 1994), laughing your ass off as the sun comes up Sunday morning.
But what if you're 12?
I was talking to my favorite science teacher at school about the end of the world, we hugged each other goodbye in the parking lot "just in case there is no Monday", when she told me that she had a class of 7th graders that voiced some concern over this prediction. Now they weren't freaking out, but since they had never experienced the (not-so-much) end of the world before, a little part of them just wasn't sure. Having gone through the same thing when I was just about that age, I understood what she was talking about. She reassured them that the world wasn't coming to an end by telling them that if it did, she would pay them each $20. (Hey, they're twelve, give 'em a break).
Anyway, I know that we can't censor anyone's religious beliefs, and I would never want to. I also know that we can't punish them for their beliefs, even when they are proven wrong (in a short Google search, I found 29 failed end of the world predictions from the 20th century alone.) I just wish there was some way to shut them up.