Only 174 more days to go!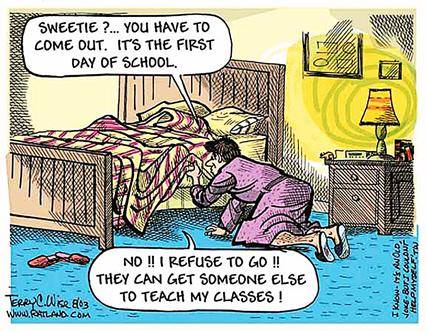 The two hardest things about going back to school for me are 1) getting up early and 2) getting used to being on my feet all day again. (Exhaustion is why I haven't been around the blogosphere at all this week.)
I hate getting up early. I love waking up, looking at the clock and being able to roll over and go back to sleep. This alarm clock thing is for the birds.
But – other than those two things, this week went quite well. My biggest class is small by Utah standards, where 36 in a math class is normal and 75 in a P.E. class is not unheard of.
The mix of students in my classes is quite good, meaning that I don't have one period that is chock full of kids that play off each other and cause the class to be hard to keep on task. I've got some of my favorite students from last year back in my classes, and some really cool new ones.
Looks like it's going to be a good year (knock on wood).