....
I met for dinner with a bunch of the staff from the school I was at last year one last time before the new school year started. Even though it's been only a couple of months, it was good to see them and find out how things were going at their new schools. One teacher who had left in tears after finding out where she was going, is much happier about the situation now that she has had a chance to get out there a couple of times. A couple other teachers hadn't as good an experience, the worst being one of the science teachers. She wasn't at the dinner, but someone who had talked to her recently told us the story. One of the other science teachers at the school she was sent to ran into her and at some point told her "we were hoping to get
-insert some other teacher's name here
-, but instead we had to take you because your school closed." Nice. If it had been me, after recovering from the shock of someone having the chutzpah to say something that rude, I would have been tempted to give them the finger. I doubt she did.
....
Later we were talking about change, and I said something about liking it once in a while, and how I've been to 5 different schools in my career, and that I have no intention of spending my remaining 14 years at one school. The councelor chimed in with "You're such a tramp, a Math tramp." I think I'm going to get that on a license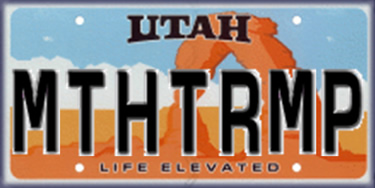 plate. Of course, since the state asks you to explain your request, they would never approve it, unless I could come up with some reasonable meaning that they would fall for. I've already had one personalized plate reposessed by the state, I have no desire to go for two. That plate had the french word "Merde", which you can have
Babel Fish
translate for you. I'd had the plates on my car for a couple of years before the state found out and revoked them. They did replace them with more acceptable ones, free of charge. If it had happened years later, I could have always argued that Jean Luc Picard (Star Trek TNG) often muttered the word under his breath during the first season. Probably wouldn't have helped, but at least I could have argued.