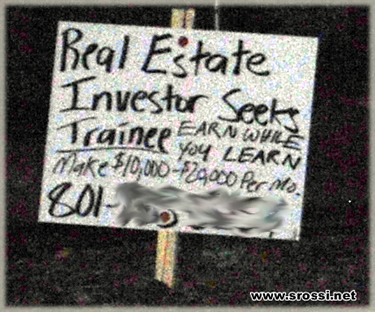 ....
Contemplate the sign a minute. Hmmm, if you can pay someone ten to twenty thousand a month to train, why can't you spring $10 for a sign that isn't hand written? Or how about: In this economy you can pay $10 to $20 thousand a month to train, why do you have to advertise at all? Shouldn't people be knocking down your door? And if you do have to advertise, why in the median on 21st So. and 13th E.? Or: if you're going to pay someone $120 to $240 thousand a year to train, shouldn't you have a professional firm screening applicants? Why can't you afford a professional firm?
....
I'm not even going to venture a guess as to what the scam is, but I'll bet you dollars to donuts that a scam it is.

* Do people really fall for this shit?