[ Did you hear the sonic boom from Highland, Utah? That was Gayle Ruzicka imploding when Mayor Ralph Becker legally married two men in Salt Lake City. ]
KSL.com reports that a Federal Judge decided that Utah's Amendment 3, defining a marriage as between 1 man and 1 woman, is unconstitutional.
[ Do you hear the big sucking sound from Utah County? That's the imploded-Gayle-Ruzicka black hole sucking all of Alpine, Lehi, and American Fork into oblivion. ]
Salt Lake County District Attorney Sim Gill said that until he receives some legal injunction, the County Clerk's office will be issuing marriage licenses to any couple that applies.
Utah Governor Gary Herbert is "…very disappointed…" and will "…determine the best course to defend traditional marriage within the borders of Utah,"
Salt Lake City Mayor Ralph Becker has already performed the marriage of Utah Democratic Party Chairman Jim Dabakis and his partner. (That's not them down below).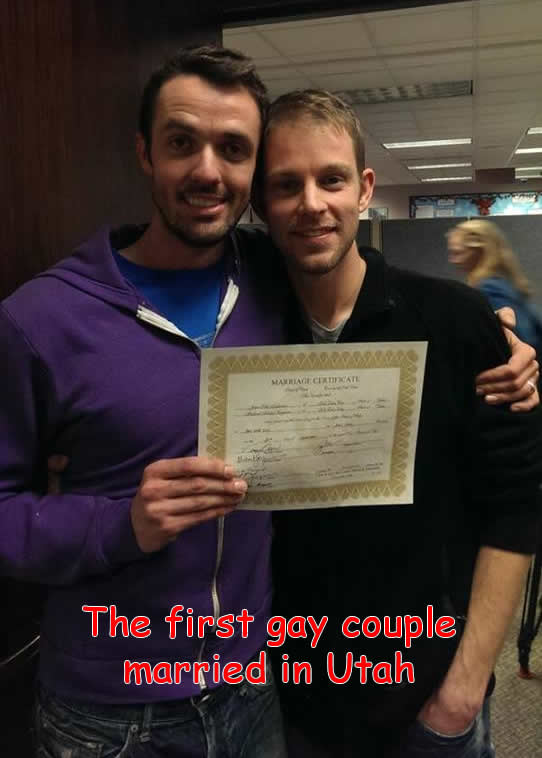 There's no doubt in my mind that the Great State of Utah will waste a ton of money fighting this. I'll also bet that, in light of the DOMA and Prop 8 rulings, this ruling will be upheld.
And for those of you screaming "state rights" and "will of the majority"; I can't put it any better than utzfan did in the KSL.com comments: "the majority of the southern states still wanted slavery, luckily our federal rights prevailed!!!"