I bought it. A 2000 Jeep Wrangler Sahara. With the V-6 and a manual transmission.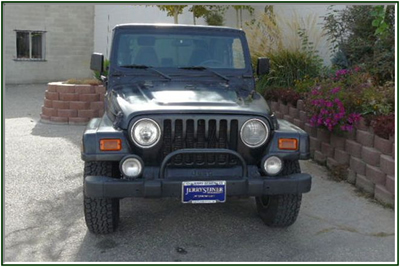 I just don't have it.
The financing is set.
The papers are signed.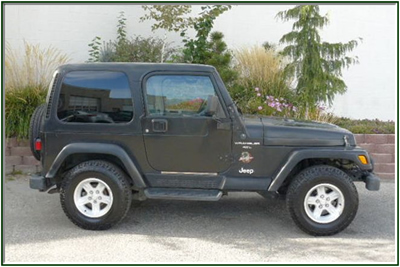 I just had one little snafu that kept me from taking it home today – insurance. They can't let you take it off the lot without collision insurance if you are financing it. And it being Thanksgiving weekend, the insurance agent, and the company itself, are closed.
Fortunately, the office manager of the insurance agency I work with is my niece's-husband's-brother's wife (and we've been with her agency for over 30 years, long before she was my niece's-husband's-brother's-wife, so we're pretty good friends with her). She emailed the paperwork to the dealership, but it was right around their closing time, so I don't get to pick the Jeep up until tomorrow (Saturday). Bummer, but at least I don't have to wait until Monday.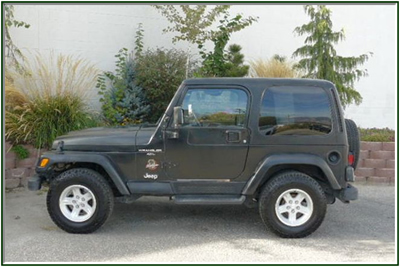 I really love getting a new vehicle, as if you can't tell by the fact that I've owned 58 of them in the 36 years I've been driving. But I've always hated the negotiating part. And this one was grueling, it took my little brother and I two hours from my first offer until I finally got them down to $50 over my "limit". I had a limit set, told them that with the loan I was approved for and the cash I had I simply couldn't go any higher. At that point they were $400 higher than I wanted to go. They brought in the sales manager, who whittled that down to $106 over what I was willing to pay and I told them that it really was a choice between meeting their offer and paying my electric and gas bills. I was ready to walk out, and then he suggested we split the difference. I was going to hold fast, until I weighed the extra $50 against having to go through the whole mess again at another dealer. I decided that a $50 convenience fee wasn't bad, so we kicked all the salesmen out of the cubical, I told my brother that I really didn't need to borrow the $50 from him, but that I wanted them to think that was what I was doing. He started sending a text to his wife like he was checking if it was ok, asked her something else and when she texted back we told the salespeople they had a deal.
Whew! And then I didn't even get to take it home in the end. Oh well, at least I should be able to get it tomorrow. And now I think I'll go to bed so I can get up early to claim my latest vehicular conquest. If I do, you're likely to see some of my own pictures of it on here soon, these are from their online ad.