#265: The theme for this week is Streetscapes.
Driving in Salt Lake City has some advantages, despite some of the worst drivers in the US.
The roads are quite wide. Most of the downtown streets have (or had) 3 lanes in each direction. The story goes that Brigham Young required the streets to be wide enough to turn around an ox drawn cart without having to back up.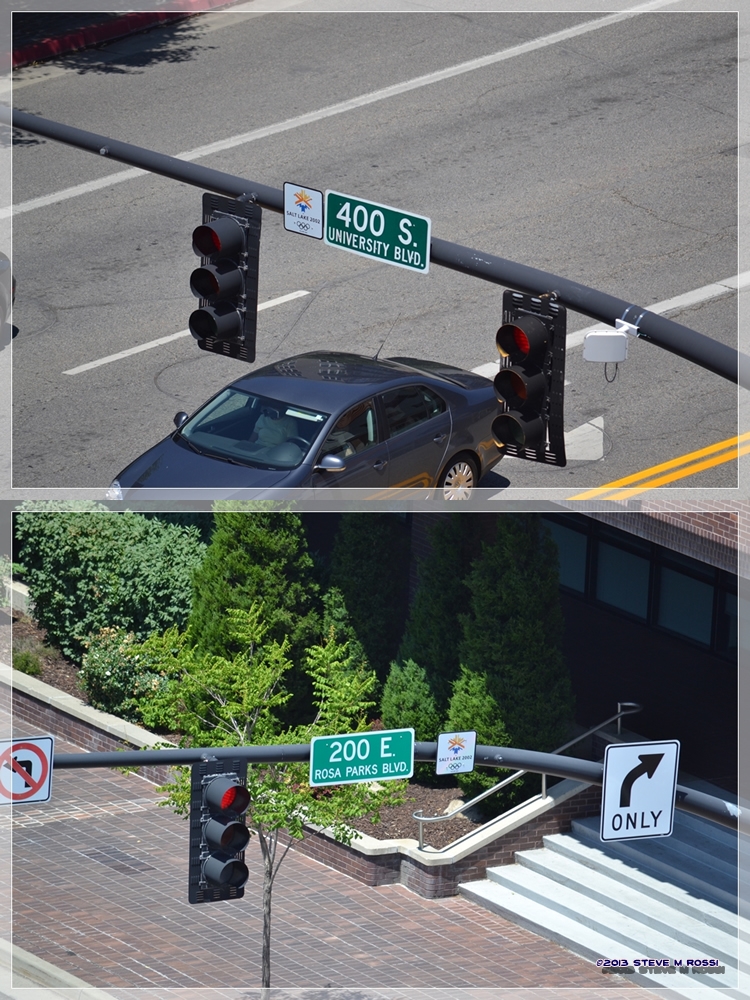 I worked in the pizza delivery business for 15 years before becoming a teacher. Delivering to homes here, especially in Salt Lake City proper, is a breeze. Almost all the streets run directly east-west and north-south; it's a perfect grid. The streets are named by the number of blocks they are away from Temple Square (the official center of the city). In the picture above is the intersection at Fourth South and Second East (also called 400 South and 200 East) and is exactly 2 blocks east and 4 blocks south of the SW corner of Temple Square.
Even streets with actual names have both a name and a coordinate (ie: Vista View Drive, 2950 East). Houses are numbered to match the grid. 992 So would be between 9th South and 10th South, close to the latter.
I love teaching about the coordinate plane here because I can ask a student their address and, if they know their street's numbers, I can point, say "You live about 5 blocks in that direction" and amaze them. Until I teach them the trick.